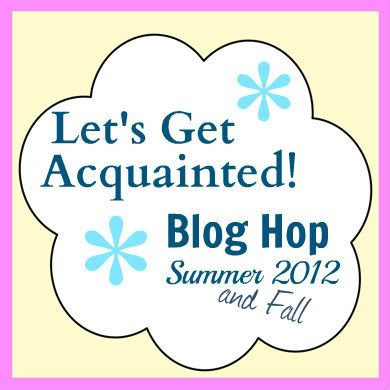 Today is my day - ok I have to share it .. but it's still also my day in the "Let's get acquainted hlog hop" series!
So first a proper "Hello" to you, I'm Leonie, I am not the most organised person which you can experience now. I started a ten day holiday trip yesterday morning that I could have easily started a day later. So I'm grateful for the scheduling thingy. If you should encounter any strange spellings, made up words, weird usage of proverbs etc etc - blame that on me being German, oh and I write British English - so it's colour not color here (blame that on the German educational system - not on me).
I guess that explains the
strange
unusual and unintelligible (I always wanted to use that word) name of my blog: strandkorbtraum - "
whicker beach chair dream
" - dreaming in a beach chair, dreaming of a beach chair ...
that's how they look
Question and Answer - Frage und Antwort
How long have you been quilting
?
Hard to say I learned about the word when I was 17 (English class, America as melting pot or patch work of cultures) until then I did do "Flickenkissen" (patch pillows) 4 of them. B I really started last autumn doing an internship in England I just had to try English Paper Piecing and somehow I ended up here
Favourite children's book?
"Just five minutes quiet/peace" (see that's an example of a free translation) - A mother just wants 5 minutes to herself but is interrupted time and time again by one kid after the other ... I knew every single line by heart and used to read it to my mum, probably interrupting her doing something important.
Now this post is already longer than any I ever did before - sorry - and just starting.
I always marvel at all of you who think up patterns, use patterns - oh I own some but that's about it - as I said I'm a bit unorganised and that's how I go about quilting too. My latest project is/was for a
swap
- the theme for August was "Autumn".
So I decided to make a leaf or leaves and googled a lot of leaf blocks and didn't really like them, so I made up my own leaf - well half of it I figured I could mirror for the other side. I numbered the leaf parts and cut the whole thing up.
And then started cutting the fabric: just pinned the paper right side down / wrong side up on the fabric and I did estimated something called "Steppfußbreite" the distance between the needle and the edge of your sewing foot (nope I don't have a 1/4" foot), but you might want to stick to the 1/4".
And then sewed them together -
how to sew curves
and ended up with that, not a prety sight I know but trim it and we have something much nicer and more leaf-ish - I auditioned colours for the other half.
I just put the patch half of the leaf on the purple baby corduroy and traced around it with the cutter, sewed the halves together with a strip and
reverse appliqueed
it to/ under (definitely not on) a nice yellow background - see that pucker I'm not perfect.
And then a loooot of quitling and I ended up with something I like somewhat despite all the mistakes.
So all that was left was a binding - I chose a bold bright ruby red, because I thought makes the yellow glow and that in turn sets off the leaf nicely - well no I didn't really think much, I just "liked" the combination.
Please don't hesitate to tell my all the horrible things I did with the fabric by just doing it because I knew it's supposed to be possible and not doing it properly - the pattern, the guessed 1/4", the machine reverse applique, not cutting off the selvage ...
Now my very talented blog hop partner, Lorelei from
MermaidSews
will be very happpy to welcome you on her blog.
If you made it all the way down here - I'm not into writing tutorials. I love comments. I try to answer all of them - well let's say so far I reacted to them - noones trusted me enough to ask a sewing question.
And don't forget to check out Tess from
The Sewing Chick
and Bethany from
make me a quilt
on Thursday, they too have prepared something for you!
Leo